A musician friend of mine is approaching 60 and I wanted yo make him a card with a musical reference.
This is a little contrived but I think it just about works.
I saw this Cheery Lynne die of an embellished treble clef at Newbury Racecourse on Saturday and thought it might come in useful. It is a G clef... indicating what pitch the notes on the stave should be played... so as it was a G I decided to use it for the first letter of my friend's name... Geoff. I tried to get the E on the E line of the stave and the two Fs in the F space on the stave.
At the beginning of a piece of music there is often an indication of the speed at which the music should be played, so I used his age as this.
The birthday greetings are from Clearly Besotted dies using recycled wrapping paper. The stars are from Memory Box.
Papertake challenge
has the theme Star and Stripes, I saw on Lorraine's blog this morning and so thought that this having both stars and stripes would qualify!
The buildings are from a Savvy Stamps die and the sentiment from Tattered Lace. The sunset was made with Distress Inks in Scattered Straw, Spiced Marmalade and Ripe Persimmon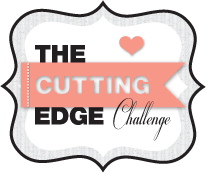 The inspiration this week is from this fab card!
The main rule for this challenge is that there should be some cutting, either manual or electronic in evidence on the submissions. What a lovely thought!